The past two weeks have been tumultuous for climate change action on both a domestic and international stage. The Paris Agreement officially came into force on Friday November 4 and on Thursday 10 November, Australia ratified the Agreement.
This article focuses on the task for the Australian Government now that ratification has taken place, with attention turning to our domestic policies – and it is increasingly apparent that Australia cannot separate policies driving climate action and domestic energy security.
Of course, casting a shadow over these developments has been the election of avowed climate sceptic, Donald Trump to the US Presidency, although Energetics argues that global action is both well supported and well established.  We see this in the positions of other governments, across the business and investment communities, and in the rapid uptake of low carbon technology which his increasingly cost effective.  You can read more our article titled Global climate action has momentum – even if the US withdraws from the Paris Agreement.
Australia's emissions reduction target must align to a 2oC trajectory
As noted by Energetics in our previous analysis, Australia's commitment under the Paris Agreement falls short of aligning us with a less than 2oC trajectory. Reducing emissions by 26-28% by 2030 presents a significant shift from our business as usual emissions trajectory as shown in Energetics' recent analysis, however as noted by Climate Tracker "if most countries followed the Australian approach global warming would exceed 3-4oC by 2050"1. Interestingly, Australia can achieve the current 2030 emissions reduction target without making any major reforms to our electricity generation sector. However, maintaining our current mix of fossil fuel-dependent electricity generation is at odds with the direction of the rest of the developed world, will not enable us to achieve deeper emissions reductions particularly in line with the 2 degree and 1.5 degree ambition, and leaves our long-term energy security at risk.
Business and investors are already assessing risk against a 2oC trajectory
Looking outside the political sphere, investors are voicing their concerns over the risk management issues associated with climate change, with increasing conviction. Blackrock, which has over $5 trillion of assets under management, is the latest and largest institutional investor discussing the importance of assessing climate related risks in all portfolios. They state, "The longer an asset owner's time horizon, the more climate-related risks compound. Yet even short-term investors can be affected by regulatory and policy developments, technological disruption or an extreme weather event2."
The global Financial Stability Board's Task Force on Climate-related Financial Disclosures will also be releasing their recommendations for climate-related financial risk disclosure later this year.   Their mission is to "help companies understand what financial markets want from disclosure in order to measure and respond to climate change risks, and encourage firms to align their disclosures with investors' needs".
In short, regardless of Australia's domestic policy settings, investors are shifting capital and the market signals are well established.
Managing energy security in Australia – coal power station closures, new state-based renewable energy targets and gas supply concerns
The Paris Agreement coming into effect coincides with concerns for energy reliability and security, both receiving increased focus following the power crisis in South Australia. While severe storms caused the black-out, resulting in the toppling of 23 transmission towers; the distribution system lacked the necessary management response and back-up to maintain energy supply. The inability to adapt and recover in the wake of the severe weather event, pointed to weaknesses that need to be addressed and are now the focus of an investigation led by Australia's Chief Scientist, Alan Finkel.
The risks surrounding Australia's long-term energy security are also being tested by Engie's much anticipated announcement of the closure of Hazelwood by 31 March 2017. With 1600MW of capacity, Hazelwood currently provides around 4% of Australia's electricity generation and 22% of Victoria's power needs. While the closure of Hazelwood is unlikely to present any major risks to Victoria's energy security in the near term, it will undoubtedly add to the conversation regarding the lack of a federal renewable energy target (RET) post 2020. The RET as it currently stands legislates for 33,000GWh in renewable energy generation in 2020, and for this level to be maintained through to 20303. Without a plan to transition towards a net zero carbon reduction goal, the Federal Government is leaving Australia open to major risks as more aging fossil fuel assets close.
While at a federal level there are no policies to support the decarbonisation of Australia's electricity sector, at a state level there is almost complete consensus in establishing policies to work towards carbon neutrality by 2050 or earlier. The NSW Government announced a commitment to achieve net zero emissions by 20504. While the NSW Government is important – they're the first Liberal government to announce such a target – they join Victoria, Queensland, South Australia, Tasmania, the ACT and the Northern Territory in announcing long-term renewable energy or carbon neutrality targets. See below for a snapshot view of the commitments made by Australia's State and Territory Governments.  
The critical issue preventing long-term energy security in Australia at the moment is the lack of a clear federal pathway managing projected closure of aging fossil fuel assets, and driving their replacement with renewable energy or gas as a transitionary step. While state and federal governments run on seemingly divergent climate action and renewable energy pathways, it is difficult to see how pivotal issues requiring state collaboration and co-ordination can be addressed.
Australia's long-term energy security requires vision - and a coordinated management plan.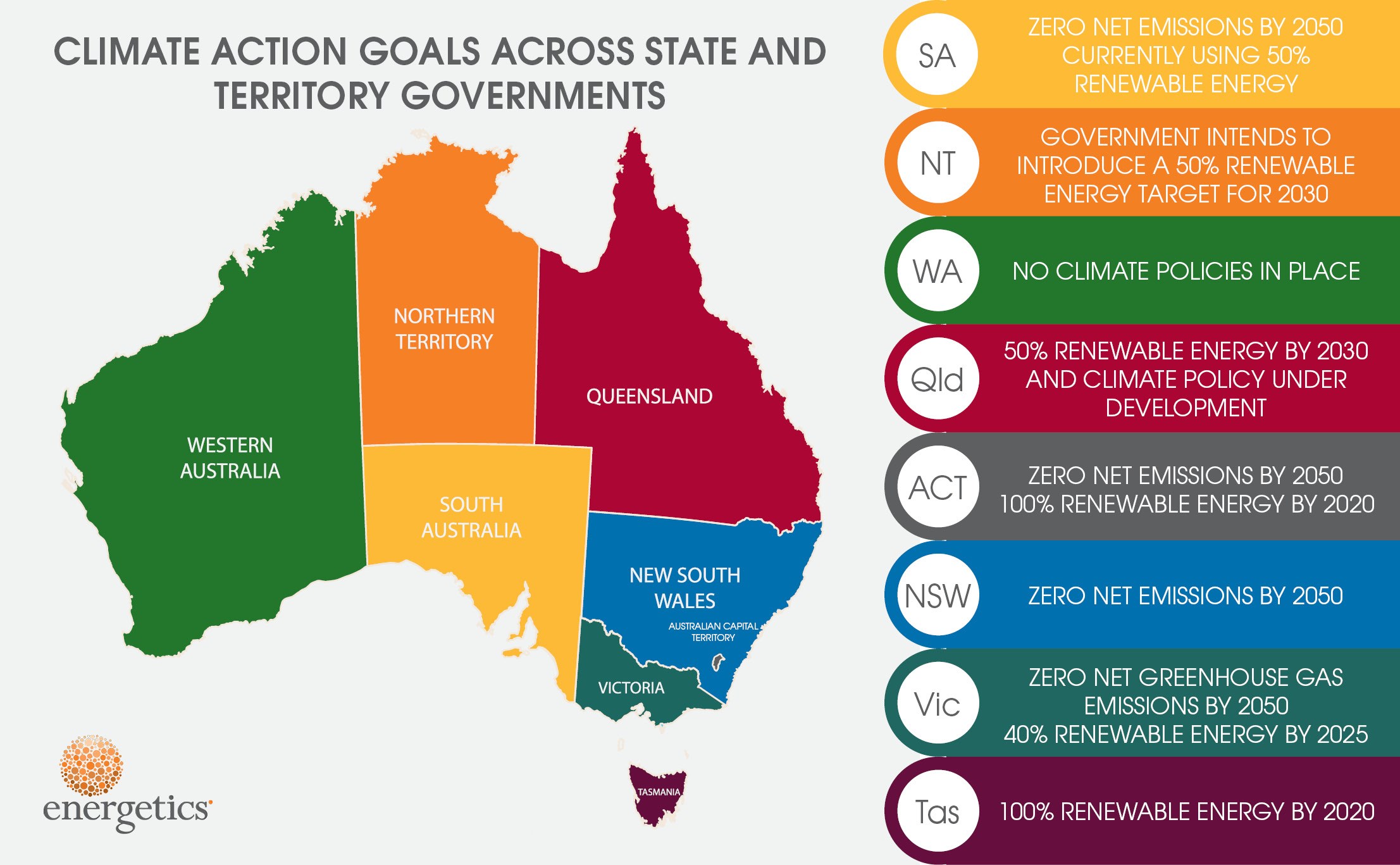 Figure 1: Climate action goals for Australian states and territories
References
[1] Climate Analytics | Australia set to overshoot its 2030 target by large margin
[2]  BlackRock Investment Institute | Adapting portfolios to climate change, implications and strategies for all investors
[3] Parliament of Australia | Renewable Energy (Electricity) Amendment Bill 2015
[4] NSW Government | Environmental Future Consultation