Negotiations are underway in what is probably the most anticipated feature of the 25th Conference of the Parties (COP25): finalisation of Articles 6.2 and 6.4 of the Paris Agreement. Article 6 is critical because it establishes the framework for the international trade of emissions units:
via a new global market for offsets which is centrally governed (Article 6.4)
between government Parties to the Paris Agreement (Article 6.2).
Article 6 will allow countries to trade in emissions units to meet their Paris Agreement targets (Nationally Determined Contributions (NDCs)) and other entities to purchase offsets to meet voluntary commitments and compliance obligations.
Negotiations on Article 6 have been protracted due to conflicting political agendas, and difficulty ensuring flexibility in the mechanisms while maintaining the integrity of the offsets originated and traded. COP25 will attempt to finalise the requirements for these Articles, including how emissions units will be issued, traded, accounted for, and reported. With the potential to support or undermine the ambition of the Paris Agreement, and countries' current and future NDCs, the outcome of these negotiations at COP25 will be of crucial importance to the future of the Agreement. 
In this article, Energetics describes the issues in more detail and considers the implications for Australian business.  
What is Article 6 and what are the offset mechanisms it establishes?
Article 6 establishes two offset mechanisms described below and in Figure 1: 
1) Internationally traded mitigation outcomes (ITMOs) which can only be originated by Parties to the Paris Agreement and do not need to adhere to specific abatement methods. However, they are subject to the overarching governance and reporting requirements established through Article 6.
2) Article 6.4 emissions reduction units (A6.4ERs) which can be originated from any project which is compliant with the approved abatement methods, traded with any buyer, and used for any purpose (NDC, compliance or voluntary use).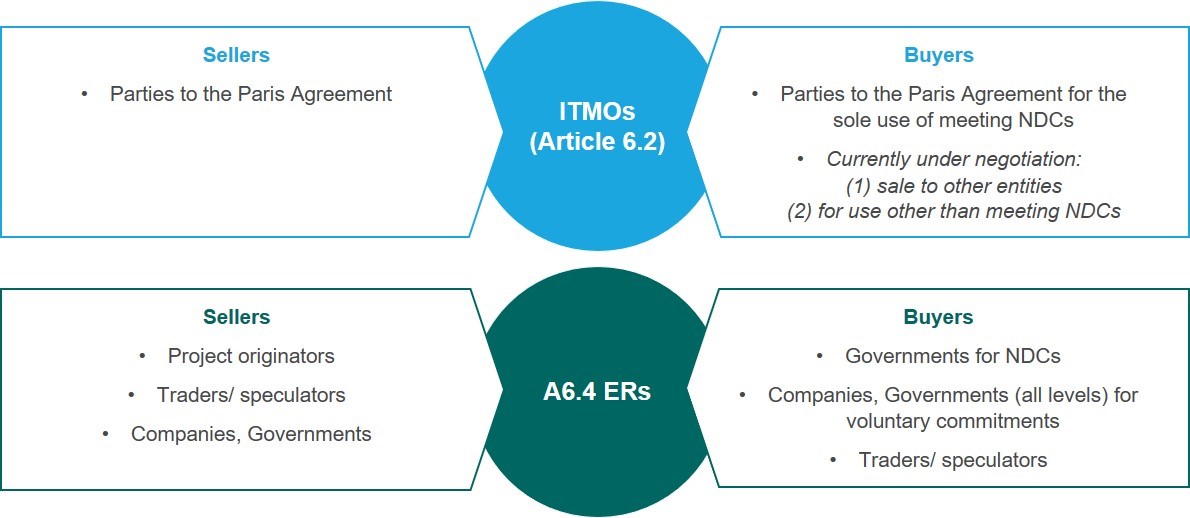 Figure 1: Market for ITMOs and A6.4ERs
Clauses of Article 6 subject to debate include:
Whether surplus emissions units from the Kyoto Protocol and Doha Amendment could be carried over to effectively reduce the ambition of Parties' NDCs
Whether surplus emissions units from NDC periods could be used to achieve future NDCs
What limitations may be placed on the use of these units, for example maximum quantities which could be carried over.
Out of step: Australia, the Paris Agreement and carry over
For Australia, the Article 6 negotiations have particular relevance as one of the few Parties advocating for the carryover of units from the Kyoto Protocol to the Paris Agreement. Our Government seeks to carry over 367MtCO2-e[1] to meet our 2030 emissions target with no plans for a commensurate increase in the ambition of the target.  Discussions at COP25 will consider whether to allow carry over of surplus emissions units, both from previous Kyoto Protocol periods and between NDC periods, and if so, whether there should be any restrictions on the number of units which can be carried over.
There is a clear intent under the Paris Agreement that ambition should be higher than the previous international agreements. It strongly encourages Parties to cancel units previously issued to ensure the achievements under the 2020-2030 are additional:
The Conference of the Parties: IV. ENHANCED ACTION PRIOR TO 2020
Encourages Parties to promote the voluntary cancellation by Party and non-Party stakeholders, without double counting, of units issued under the Kyoto Protocol, including certified emission reductions that are valid for the second commitment period.[2]
As a signal of ambition, several nations have either cancelled Kyoto units from Commitment Period 1 (CP1) or made commitments to not use them (including Denmark, Germany, Britain, Sweden, the Netherlands, France and New Zealand[3]). However, cancellation of Kyoto units is not mandated, and it is possible that negotiation pressure from Australia, Russia and the Ukraine (the countries currently supportive of carrying over Kyoto units) may result in a rule book which is developed contrary to the overarching intent. 
It should be noted that even if all Parties to the Paris Agreement achieved their NDCs at the end of 2030, the current committed NDCs will not be enough to achieve the Paris Agreement goal of keeping warming to well below 2 degrees. As such, carrying over any credits will certainly undermine the overarching objective of the Agreement. 
There are three different types of units which the Australian Government holds which could potentially be carried over to our NDC.
Article 6.4 allows for the potential roll over of existing units from the Joint Implementation (JI) scheme and Clean Development Mechanism (CDM). All options remain possible in the current draft text, including:
no roll over of existing units
roll over if compliant with A6.4ER methods
roll over with upper limits or conditions on use, or
unrestricted roll over of units.
However, critically for Australia, there is no mention of roll over of Assigned Amount Units (AAUs) in the draft text which make up over a third (an estimated 139MtCO2e) of the Government's anticipated carry over. There is some uncertainty about whether these units could be carried over as ITMOs. Also, until the Doha Amendment is ratified[4], Commitment Period 2 (CP2) targets may not be considered legally binding. The end of that target period in 2020 will reveal whether a formal true-up and surrender of emissions units will be conducted, and if not, whether any units will exist from CP2 which could potentially be carried over.  
All of these aspects contribute to significant uncertainty about the number of units which may be able to be carried over by Australia to use against its NDC. Figure 2 shows the spread of potential outcomes.
For Australian business a higher carryover may be detrimental in the longer term as it increases the abatement required per annum to achieve net zero in 2050 which is the target/ambition set by all of Australia's states and territories.
Table 1: Carry over scenarios in Figure 2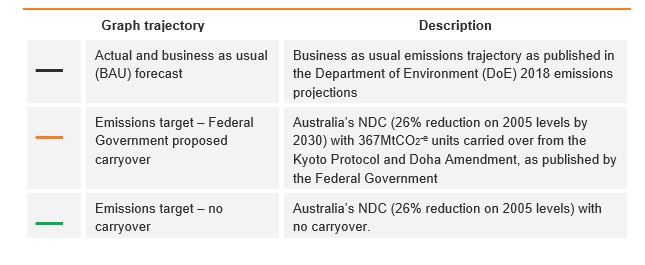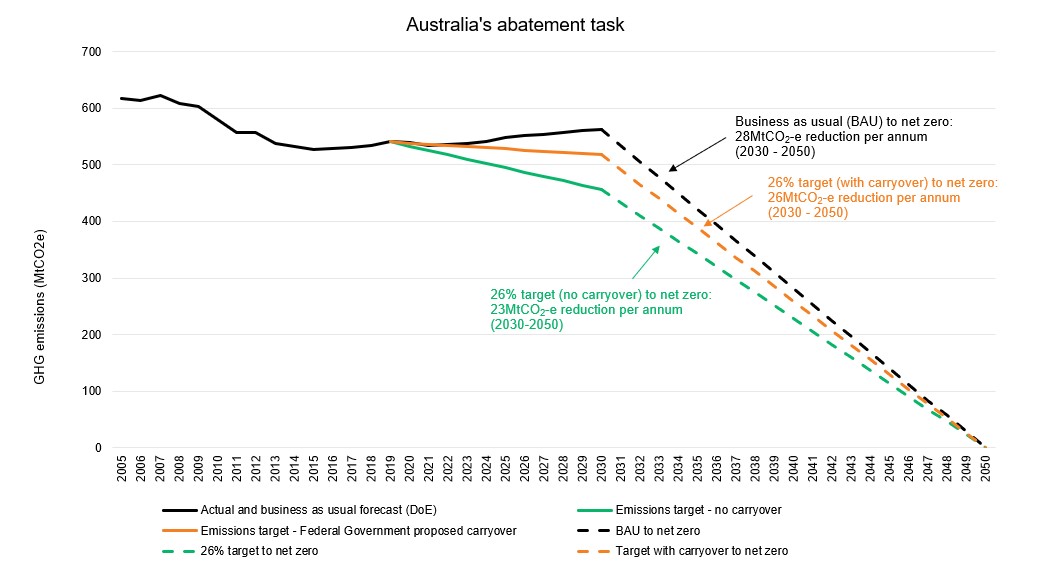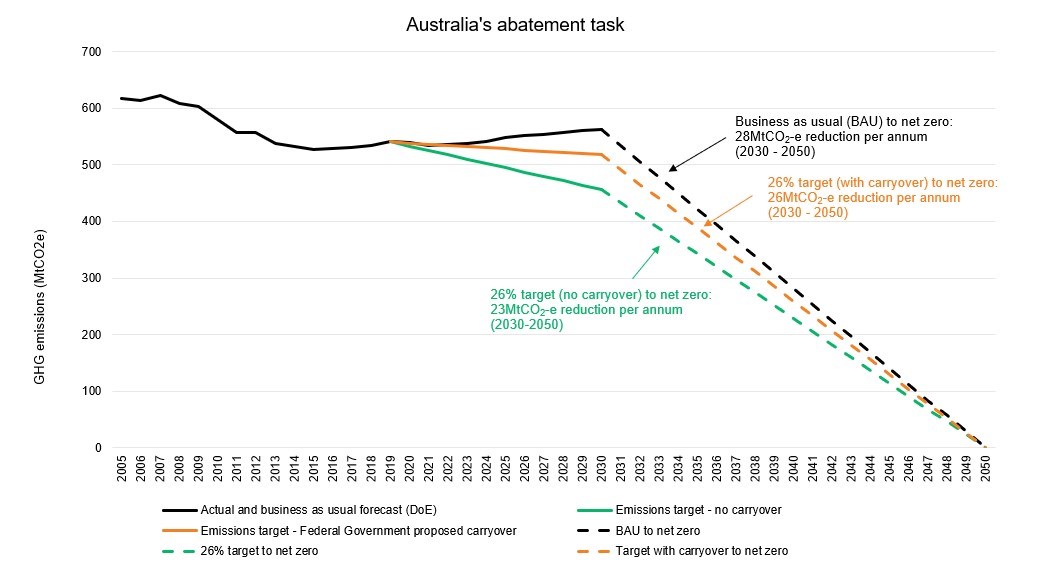 Figure 2: Australia's abatement task under different scenarios
Potential outcomes and implications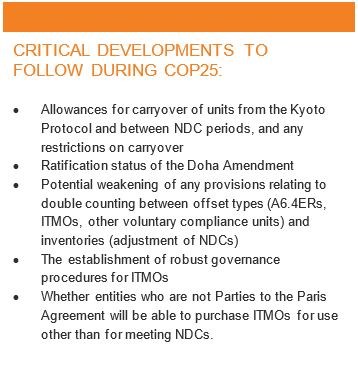 Growing investor pressure and community concern will continue to raise expectations for companies to demonstrate action on emissions abatement and climate risk mitigation. This is heightened in an environment where the global response is insufficient (as is currently the case) and could potentially continue if Article 6 is ineffective.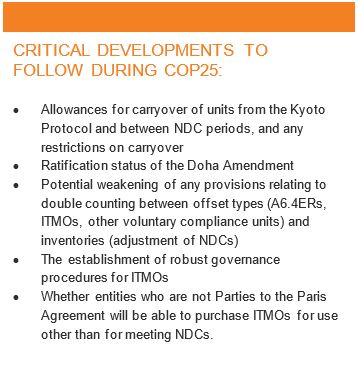 Australian businesses can take a leadership role and speak to the need for climate ambition and effective management of risk. The current claim that Australia's 2030 NDC can be easily met is detrimental to the longer term need to decarbonise the economy. The Federal Government is unlikely to increase the ambition of Australia's current or future NDCs, regardless of the outcomes for Kyoto carryover at COP25.
If Article 6 succeeds in establishing robust mechanisms to ensure abatement is genuine, Australian business could advocate for the international trade of units to and from Australia to increase the liquidity of the international market, provide more trading opportunities for companies, and establish a globally consistent price. However, advocating for this position could be detrimental if Article 6 does not have provisions to ensure genuine abatement.
Certainly the carryover of Kyoto Protocol units to the Paris Agreement would be detrimental to the Paris Agreement's mitigation objectives, the domestic economy, and Australian business operating in the global marketplace. 
Upon the conclusion of COP25 Energetics will provide follow up commentary on the result and advice to business on the implications for climate change strategies.
References
[1] Commonwealth of Australia, 2019
[2] Decision -/CP.21, Adoption of the Paris Agreement
[3] Potter, AFR, 2019