In the past few years, Energetics has observed that the organisations we work with now have well-established systems and processes for mandatory reporting like NGER and NPI. However, this has coincided with the rise of investor pressure for greater transparency in sustainability reporting and such systems and processes may need to expand or adapt. The array of sustainability disclosure frameworks can be confusing and companies that are just embarking on this journey can often have difficulty in knowing where to begin. 
Reporting frameworks
There are a number of sustainability disclosure frameworks available and even though some aspects are overlapping, selecting the right one for your organisation is important in order to achieve the best outcome and value.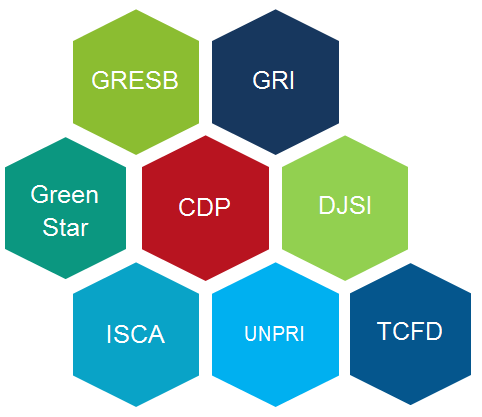 Figure 1: Sustainability disclosure frameworks
Some frameworks are generic and can be adapted or applied to any organisation, such as the Global Reporting Initiative (GRI) Standards and Dow Jones Sustainability Index (DJSI). Some are sector specific, like the Global Real Estate Sustainability Benchmark (GRESB) which applies to the property sector. Infrastructure now has the Infrastructure Sustainability Council of Australia (ISCA) rating scheme. The Green Star rating scheme covers buildings and communities.
Other frameworks target particular sustainability aspects. The CDP (formerly Carbon Disclosure Project) covers climate, water and forests, while the newly released guidance (still open for consultation) from the Taskforce for Climate-related Financial Disclosure focuses on disclosing financial risks and opportunities related to climate change.
The value of sustainability reporting
Sustainability reporting requires you to gather information and data. Disclosing this information creates greater transparency for both internal and external stakeholders about your sustainability performance and can help you identify key issues to focus on and, accordingly, improve productivity and reduce costs.
Reporting annually is a valuable way to identify gaps and opportunities and to continuously improve your sustainability performance. It can provide your company with a benchmark of your current and past performance in various aspects of your business, and encourages you to set improvement targets.
Sustainability disclosure can also serve as a differentiator in competitive industries and foster stakeholders' confidence, trust and loyalty. The value is described in Figure 2.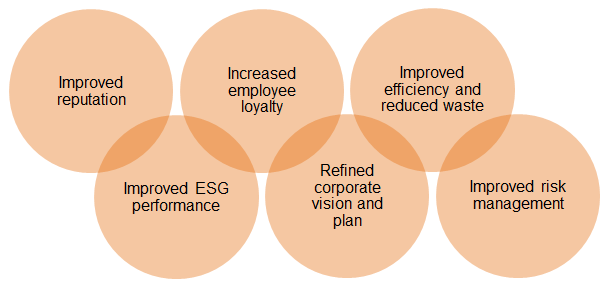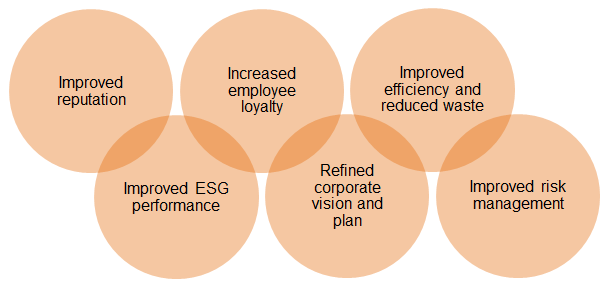 Figure 2: Ways that sustainability reporting provides value to an organisation1
Energetics' experience
Energetics has helped clients to identify which sustainability disclosure frameworks are appropriate for their organisation. We have also assisted clients travel further along the path of sustainability disclosure. For example, through actions like the development and implementation of an Environmental Management System (EMS) and aligning their annual ESG report to GRI requirements, we helped one of our clients to improve their GRESB score by 13 points in 2015. Further improvements and refinement of the survey responses in 2016 resulted in a jump from 8th to 5th place in their peer group and an additional increase of 8 points to the score.
Energetics can provide valuable insight into the requirements and opportunities for sustainability reporting. We can help you in two ways:
1. Understanding your level of maturity and integration of sustainability management
Where are you currently positioned in regard to your sustainability performance and disclosure? Understanding your current situation helps your organisation to identify gaps and define your sustainability vision, mission and business goals, and outlines the management practices to achieve these goals.
2. Measuring performance through reporting (sustainability reporting)
What are your options for sustainability reporting? Reporting ESG metrics using sustainability frameworks such as GRI or GRESB is one way of measuring and benchmarking your performance with your peers.  Sustainability reporting enables you to measure, manage, and disclose your ESG performance. Developing and executing systems and processes to gather information for sustainability reporting can also result in the early identification of ESG risks.
Sustainability reporting is generally voluntary and not all schemes are the same. It is therefore important to determine what is appropriate for you at your stage in the sustainability disclosure journey.
Now is the best time to plan your sustainability reporting for 2017. Contact any one of our experts for more information.
References
[1] Boston College Center for Corporate Citizenship and EY 2013 survey