Companies can no longer restrict their decarbonisation agenda to the emissions within their control – stakeholder expectations and emerging regulatory requirements mean companies must deal with emissions throughout their value chains as well.
Value chain emissions are considered "scope 3"
The emissions throughout a company's value chain are defined as their "scope 3 emissions". These are the emissions generated by the company's suppliers, customers, and other stakeholders, as well as from the distribution, use and disposal of the company's products.
Consider a car manufacturer. Its direct emissions (Scope 1) include the emissions produced within its factory. Its indirect emissions (Scope 2) are those from the electricity it uses to power the factory.
But its Scope 3 emissions include the emissions generated by the companies that supply the raw materials for the cars (for example, steel and rubber), the emissions generated by the companies that manufacture car parts (such as the engine and the transmission), the emissions generated by the companies that transport cars to dealerships, and the emissions generated by the cars themselves when they are being driven by customers.
Scope 3 emissions can easily make up more than two-thirds of a company's total emissions footprint.
Scope 3 emissions need to be addressed
Other companies within your value chain have direct control over the emissions that become your company's scope 3 emissions. However, shareholder and stakeholder pressure is increasing for all large companies to at least understand and account for their scope 3 emissions, and ultimately take action to reduce them. Here's why:
Scope 3 emissions are a source of carbon risk for you. In a decarbonising world, all points on an emissions-intensive value chain are exposed to potential carbon costs. Even if an individual company can avoid or pass through direct costs, it cannot escape the indirect impacts of a shift from high-carbon to low-carbon alternatives.
Scope 3 emissions can be influenced by you. A company can make choices that reduce its scope 3 emissions. A car manufacturer can choose to buy lower-carbon materials or car parts, and produce lighter, more fuel-efficient cars. Because you can affect your scope 3 footprint, climate target-setting frameworks, like Climate Active and the Science Based Targets Initiative, include a focus on scope 3 emissions, although each of these regimes takes a very different approach to reducing these emissions.
Your stakeholders want to know all about your scope 3 emissions. Investors want to understand companies' carbon risk. Customers want to see that companies are managing the environmental impacts of their products. Reporting and managing scope 3 emissions are becoming necessary components of an organisation's social licence to operate and can impact its access to capital.
Financial disclosure regulation may soon mandate reporting of scope 3 emissions. A new baseline standard on climate disclosure being developed by the International Sustainability Standards Board (ISSB) includes the requirement to report scope 3 emissions. The ISSB standard, to be finalised and released by June, will influence Treasury's current investigation into mandatory climate-related financial disclosure.
Dealing with scope 3 emissions adds value. Minimisation of climate-related impacts enables market differentiation, with the potential to attract a "green premium" for a product or service or appeal to a wider customer base. The need to engage with members of an organisation's supply chain has the potential to create new partnerships and can give rise to innovation and cost reduction opportunities. Identifying supplier emissions reduction opportunities can reduce the scope 1 and 2 emissions of companies up and down the value chain, creating a "win-win" situation for an organisation and its partners.
Reporting on and reducing scope 3 emissions are two very different tasks – but you should start with the end game in mind.
A diagram of the reporting process is set out below. Exactly what and how you report depends on why you're reporting, although over time it is likely that these requirements will converge. At the end of your process, you should have a published scope 3 inventory. However, it will probably be quite uneven in terms of data quality, reliability and useability. For some emissions categories, especially those where you have strong supplier, tenant or customer relationships, you might be able to get actual emissions data, while for other categories you may have to rely on estimations for example industry input-output factors.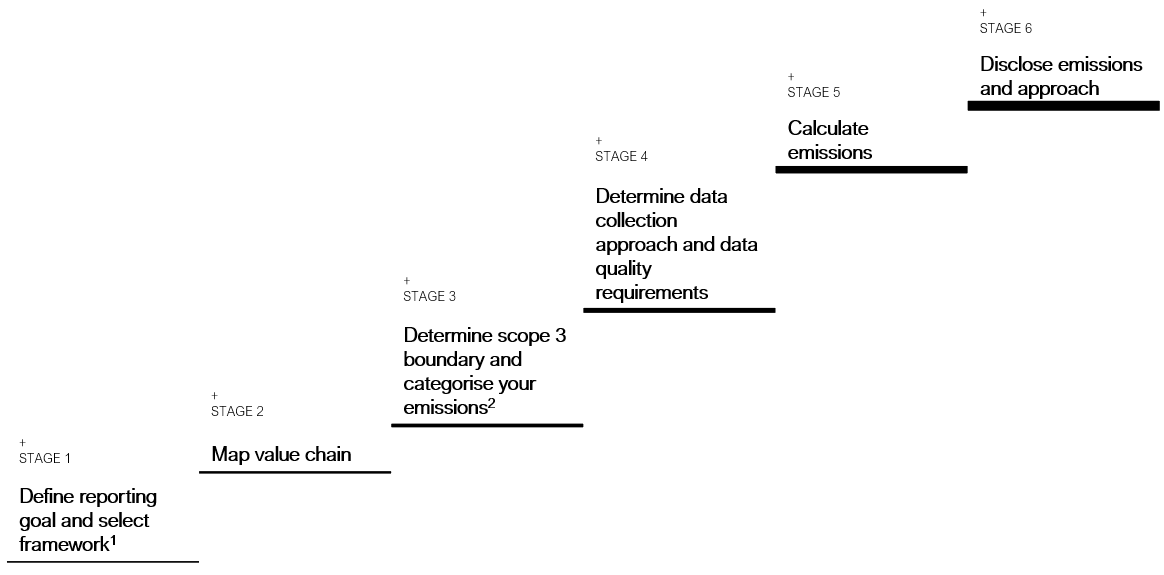 Figure 1: Scope 3 reporting process
What you should gain, though, is a sense of your most significant sources of scope 3 emissions, along with something to satisfy initial disclosure requirements, noting that these are still maturing. This will set you up for the important next step – reducing your scope 3 emissions.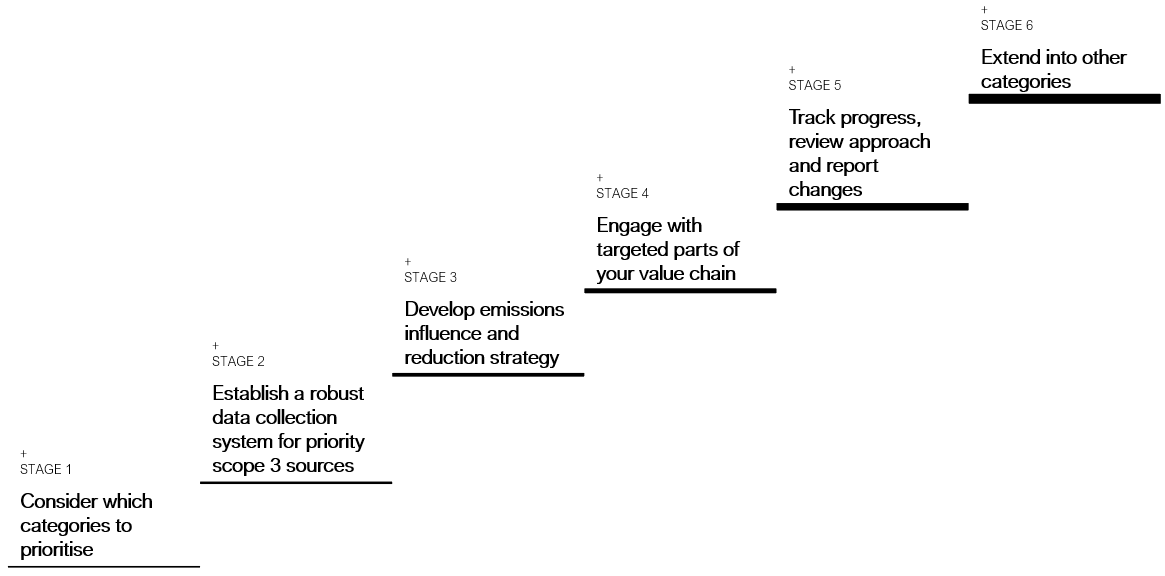 Figure 2: Scope 3 emissions reduction process
Deciding where to focus your scope 3 reduction efforts should be based on three factors:
Most significant scope 3 emissions sources. Some sources have good data (business air travel emissions, for example, are provided as a matter of course by travel management companies); but they may only make up a tiny share of your total scope 3 emissions footprint. Select some of your bigger sources to tackle first.

Sources for which you have the most leverage. Since you do not control these emissions sources directly, you need to consider how best to influence them indirectly. Can you work in partnership with key suppliers? Can you engage with tenants' energy choices? Can you enable customers to cut their emissions? Understanding your value chain in this way is likely to produce co-benefits in terms of better relationships and identifying new opportunities.

The data collection and management system you will need to be able to measure progress. None of this will matter very much if you can't see it in the data. You need to be able to collect, on an ongoing basis, information from your value chain partners that demonstrates how much emissions are actually reducing.
We can help
Energetics works with companies at all stages along the scope 3 journey. We can help you progress your scope 3 emissions reporting and develop your internal capacity to tackle scope 3 emissions reduction. If you are starting right at the beginning, we can ensure that each step forward is useful and manageable. If you already have an inventory and are thinking now about how to reduce your scope 3 emissions, our experience in decarbonisation across the economy and through value chains can help you work out your most effective next step.
[1] Various frameworks are available to assist organisations establish goals, set targets and meet disclosure requirements for their scope 3 emissions, including Climate Active, SBTi, TCFD and GRI. Understanding an organisation's aims, level of ambition and emissions reduction drivers can help establish the most appropriate framework.
[2] The Greenhouse Gas Protocol classes scope 3 emissions according to 15 mutually exclusive categories: GHG protocol | Scope 3 Calculation Guidance.