In this blog, I provide updates from domestic and global forums that are promoting discussion and seeking to find pathways to ensure that the recovery from the COVID-19 pandemic is one that features climate action and resilience as a core strategy.
2021
Last week I read the International Energy Agency's Net Zero 2050 study and attended a webinar delivered by Princeton's Andlinger Center, which explained the Net Zero America project. I was struck more by the artifacts of the analyses, than necessarily by the numbers each scenario delivered. But more of that later.
What do the scenarios include?
The IEA scenario Net Zero 2050 focuses on delivering a net zero energy system by 2050, paying attention to universal energy access, ensuring energy remains affordable, and enabling robust economic growth. The focus is on a cost effective and economically productive pathway. It requires immediate and concerted action to deliver renewables, electrification of transport and energy efficiency. Emissions reductions required by 2030 will result from technologies which are already available at commercial scale. Innovation is required to deliver the around half of the reductions required between 2030 and 2050. This innovation imperative is immediate. Hydrogen fills the gap where electricity cannot readily displace fossil fuels, or where bioenergy is not sustainable or reliable. It has a fair role to play before 2030.
The Princeton Net Zero America study was technology and policy agnostic and rather plotted the lowest cost trajectory to deliver net zero under a number of scenarios:
E+: high electrification, no land use change for biomass
E-: less rapid electrification, no land use change for biomass
E- B+: less rapid electrification, biomass requires conversion of agricultural land from food to energy crops
E+ RE-: rapid electrification, renewable energy installations constrained to historical maxima
E+ RE+: full electrification by 2050, no fossil fuels by 2050, no land use change for bioenergy, no nuclear, no CCUS.
A uniform approach to identifying technologies to be deployed in these studies was used. The technology classes were:
End use energy productivity including energy efficiency and electrification
Clean electricity which included firming and network considerations
Bioenergy and other zero carbon fuels including hydrogen
Carbon capture, transport, usage and storage
Reduced non-CO2 emissions
Nature based solutions.
It's all about the numbers
The Net Zero 2050 study says $4 trillion needs to be spent on the transition by 2030. This will create millions of new jobs and will improve health significantly. Sale of internal combustion engine cars needs to cease by 2035 and unabated coal and oil power plants must be phased out by 2040. Electricity generation must reach net zero by 2040 and be delivering around half of total end use consumption at that point. There will be significant requirements for flexibility in the electricity system which will be underpinned by, among other technologies, hydrogen and batteries. By 2045 new technologies will be widespread.
We need to deliver energy efficiency savings at three times the average of the last two decades over the next ten years. Electrification of industrial plant and transport becomes more significant as electricity systems tend to net zero. Bioenergy is more significant between 2030 and 2050 and is responsible for the improvements delivered through clean cooking technologies. In 2050, 90% of electricity comes from renewables.
Carbon capture, utilisation and storage (CCUS) plays a number of roles:
It captures emissions from existing energy assets
It captures emissions from bio energy systems
It provides a solution for some of the hard to abate sectors (eg., steel and cement production)
It supports the scaling of hydrogen production
It enables us to remove CO2 from the atmosphere when we overshoot our preferred concentration.
Behavioural change delivers 4% of the total emissions reductions required to deliver net zero in 2050.
What else do the scenarios tell us?
The IEA Net Zero 2050 scenario highlights yet again that the next decade has to be one of concerted action. The 2020s has to be the decade of clean energy expansion, and focused innovation. The transition is all about people, what they buy and how they live. The IEA clearly states that there is no need for investment in new fossil fuel supply in their net zero pathway. Energy security challenges remain, and will change in nature but will not be eliminated. There will be potential jobs growth but this will not necessarily be evenly spread globally.
The figure below illustrates seminal aspects of the IEA trajectory.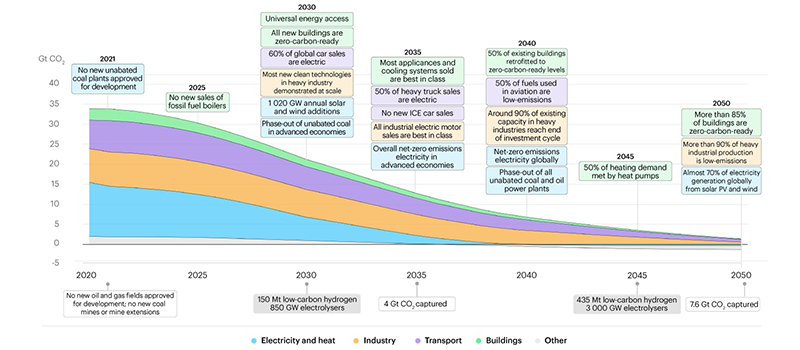 Figure 1: International Energy Agency Net Zero by 2050
The Net Zero America results were less specific about end points and changes as they were contrasting scenarios. However, by 2050 a number of results are delivered, these are summarised below. In common with the IEA results these include:
Increase in EVs sooner rather than later
A requirement for energy efficiency to play a role in delivering net zero
Nuclear as an energy source is very limited
Flexibility in systems and resources is a prerequisite
Biomass and hydrogen have a role to play
Health benefits through reduced pollution should not be under-estimated
CCUS presents as a significant part of the technology solution in all scenarios where it was part of the technology mix.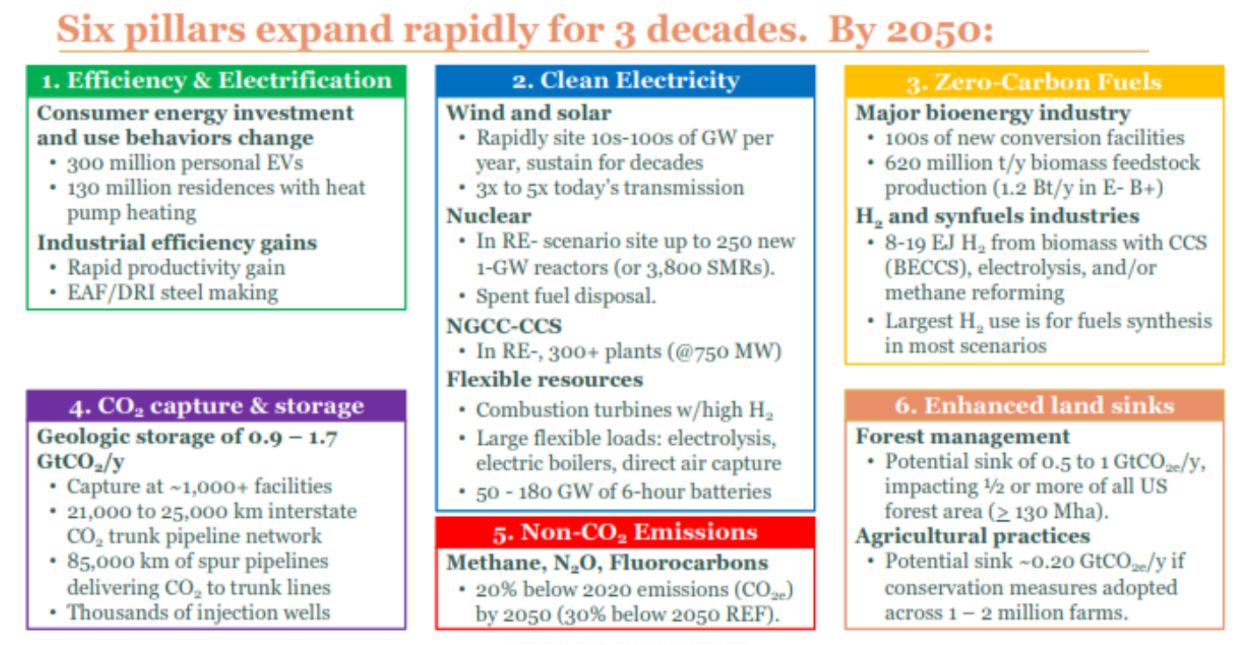 Figure 2: Net Zero America Potential Pathways, Infrastructure, and Impacts
What do we learn from these studies?
We need to act now and we need to act fast, the decade to 2030 is pivotal, this applies both to implementing technology, which is currently available, and to accelerating the innovation we need to deliver reductions post-2035
Technology and infrastructure need to be deployed at an unprecedented rate in the next ten years, and we need to invest in enabling technologies now, to support the innovation that we need later (eg. support for a hydrogen economy and EV charging)
Electrification between now and 2035 will be rapid and underpinned by behavioural change of consumers in many cases
Electrical network flexibility and stability are a concern to all players
In the long term we will see industrial transformation in hard to abate sectors
Least cost scenarios require CCUS to work at scale
Significant capital will be released, and many jobs will be created, this is much more an opportunity for companies and economies than a threat.
The clear message from both these studies is that we need to act concertedly and quickly. There are significant gains to be had from developing and delivering net zero pathways, and that fortune is likely to favour the brave.
In January the Global Risks Report 2021 was tabled at the meeting of the World Economic Forum (WEF) in Davos. A major part of this report is the Global Risks Perception Survey. It was surprising that the results of this survey, which played out against the worst of the pandemic, indicated that the risk of greatest concern (albeit marginally) was Climate Action Failure. Globally, the 650 members of the WEF were more concerned about the impact that inaction by governments as regards climate change will have on the global economy, than all the other risks surveyed.
Fast forward four months and two surveys were published in Australia in quick succession:
The Australian Financial Review published the results of a survey of their readers: AFR readers push Morrison to commit to net zero target, AFR, 3 May 2021
The Australian Institute of Company Directors published their Director Sentiment Index (DSI) survey of their members: Director Sentiment Index: research findings first half 2021.
More than 500 AFR readers responded to the readers survey. 65% of readers believe that that Federal government should set a net zero target for 2050 while 26% said this was not necessary.

Figure 1: Australian Financial Review | Should the Federal government set a net zero target for 2050?
The article reporting these results cited respondents as saying that climate change was "not only the biggest challenge facing our country but also the biggest opportunity". Concerns were voiced that the current inaction on the part of the federal government could lead to Australian businesses missing out on the opportunity that is inherent in the global shift to a zero emissions economy. Respondents also expressed concerns about the potential impact of proposed border adjustment taxes being investigated by the EU and the US and what this could mean for the value of Australian exports.  
The AICD survey was run over the first fortnight of April, 1,589 members of the AICD responded in this time. While the most notable response in the survey was the change in director sentiment for the better. The difference in sentiment since September 2020 was a change of 45 points to the positive which is the largest jump ever recorded in the Index.
Climate change grabbed almost all of the remaining headlines:
Directors nominated climate change as the number one priority Federal Government should address in both the short and long-term. In the short term energy policy ranked a near second, in the long term climate change was seen as a clear priority
Directors viewed the response to climate change of business and community organisations as stronger than that of State and Federal Governments
77 per cent of respondents were in support of establishing clear five-year emissions reductions targets to provide a clear pathway to the longer-term net zero goal
More than half of respondents consider climate change a material risk to their organization, with only 26% disagreeing or strongly disagreeing with this statement
Renewable energy resources were rated the number one area in importance for infrastructure investment.
While COVID-19 impact and global economic uncertainty were still seen as the most significant economic challenges, their importance had reduced significantly, while climate change was ranked third and its importance had grown significantly.
The significance of climate change to in the survey responses drove the AICD Managing Director and CEO, Mr Angus Armour, to comment, "Directors clearly perceive that climate change risk is not a niche issue only relevant to some sectors, with the challenge now a mainstream item on boardroom agendas."
Questions were asked specifically about policy support to address climate change, the results of which are included below. These results demonstrate there are real concerns in the private sector about the need to build a national adaptation response. There is a clear appetite start to channel monies into innovation, and a requirement for targets to remove uncertainty and help clear the path to a carbon reduced future.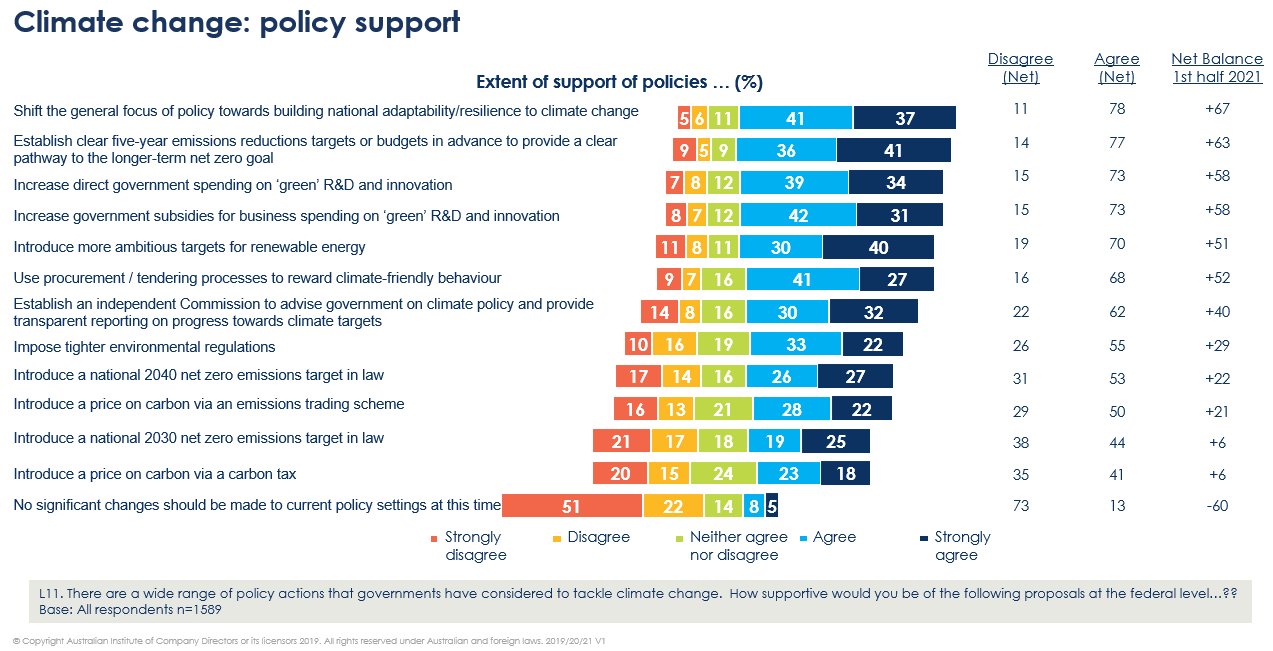 Figure 2: Australian Institute of Company Directors, Director Sentiment Index: Research Findings, First Half 2021 (p.56) | Climate change policy support
In summary, the private sector can see the writing on the wall, they recognize that we need real action now and they are calling on the federal government to set meaningful targets and then to step back and let the private sector innovate their way out of the problem.
2020