Interest in hydrogen, particularly in 'green' (electrolysis using renewable energy derived) hydrogen, is running high. There is widespread recognition that it can be an important part of the net zero solution by decarbonising hard to abate sectors such as heavy transport and industrials, for which electrification will remain challenging.
Energetics' recent stocktake of market developments reveals key insights to guide participants as they navigate their way through the nascent hydrogen market. In this article we step through the insights gained from the stocktake and describe the steps that still need to be taken to support market growth.
Interest in hydrogen continues to grow. However, its ability to help the world meet the goals of the Paris Agreement includes a number of challenges
To meet the Paris goals, under a number of scenarios[1] hydrogen and hydrogen derived fuels will need to account for approximately 10-15% of global energy demand[2], which requires the production of hydrogen to expand by almost five times[3] from its current base of 90 million tonnes per annum, which is indeed a step change.
By 2050 it is estimated that over 70% of global hydrogen production will be based on 'green' electrolysis (currently less than 1%), which requires renewable energy generation to at least triple from today's 290 gigawatts[4] (GW) per year to more than 1 terawatt (TW) per year by the mid-2030s. In parallel, installed electrolyser capacity will need to grow from its 2021 level of 700MW to 4-5TW by 2050[5].
Such a 'quantum' leap requires an investment of around US$4 trillion by 2050[6] (compared to over US$330 billion committed by governments with a hydrogen strategy and corporates[7]). There are significant challenges, including the expansion of renewable energy generation, high costs across the value chain, infrastructure limitations, including distribution and storage, and a lack of 'use' case commerciality in the short to medium term.
Hydrogen hype is meeting market reality with growing recognition that the investment case, particularly for 'early' projects, is difficult
The market and value chains for hydrogen as an energy carrier are in their infancy with most current projects at pilot/pre-commerciality stages. As identified by a number of recently completed feasibility studies in Australia, such as one conducted for the Stanwell Hydrogen Project[8], whilst technically feasible, the commercial viability of green hydrogen projects has not yet been achieved. It is worth noting that despite a pipeline of approximately 95GW[9] of green hydrogen projects, we are yet to see a large-scale project reach a final investment decision in Australia.
Financiers are currently grappling with the nascent hydrogen market and perhaps one of their biggest concerns relates to demand. With so much of the recent focus having been directed towards de-risking and accelerating the supply side, demand uncertainty (i.e. who will buy the molecules? When, and for how long will they buy it? At what price?) is testing the appetite of investors.
The considerable gap between the current production cost of green hydrogen ($5-7/kg) and customers' willingness to pay, which is closer to $2/kg, is a key investment risk. Whilst some early adopters may pay the associated 'green' premium, uncertainty remains with respect to a broader uptake of hydrogen, particularly in cost sensitive sectors such as heavy transport. By way of example, market engagement as part of Stanwell Hydrogen Project's feasibility study revealed the "difficulty of attracting a price premium for green hydrogen" [10].
The commercialisation pathways for future projects may be different to existing pilot projects, which have a captive demand base, such as distributing blended hydrogen to existing gas customers.
In addition to demand risk, there are a number of other issues, which are impacting investment decisions, including technology risks (i.e. industrial deployment of current electrolysis technologies not being widely tested), access to viable transport and storage infrastructure, operational performance, particularly for integrated onsite renewables and hydrogen projects, and offtake pricing mechanisms.
On balance, given the lack of a merchant market for hydrogen, financiers will require projects to have bankable, long term and credible offtake arrangements. Otherwise, capital flow into early hydrogen projects will prove challenging, particularly without significant government support to create certainty and provide more direct support through subsidies.
To manage demand risk, alignment with emerging certification schemes will be essential
It is broadly recognised that Guarantee of Origin (GO) or certification schemes are an essential component of the emerging clean and green hydrogen markets. They provide hydrogen producers with the ability to showcase the environmental attributes of their product(s). They also empower customers to make informed decisions about different hydrogen products. Energetics' recent industry consultation experience revealed a strong customer preference for transparency in hydrogen value chains.   
Despite market calls for certification schemes to be consistent, we are seeing the emergence of potentially divergent designs, which could hinder market development. These variances relate to inconsistencies with respect to thresholds for classifying hydrogen, (i.e. the CO2 threshold limit below which hydrogen would be considered green or low carbon), system boundaries, allocation of emissions to co-products (e.g. emissions associated with oxygen in electrolysis) and the acceptability of offsets[11]. There are also emerging strict requirements for producers to prove the provenance and additionality of the green power used to produce hydrogen and to also demonstrate 'temporal' correlation (i.e. synchronise renewables and hydrogen production). 
To mitigate demand risk, project developers need to understand the nuances of emerging schemes and engage with their future customers from an early stage to ensure their projects are aligned with market requirements. avoid demand risk. Customers, particularly those pursuing credible net zero ambitions, are unlikely to commit to hydrogen, unless they are convinced of its green credentials.
Targeted government policy and innovative support is required to underpin market growth
Considering the immaturity of the market and the magnitude of challenges facing the emerging hydrogen industry, more ambitious and innovative government policy, including in Australia, is required to create stable market conditions.
As illustrated in the figure below[12], there is currently a spectrum of global policies and measures to support the development of hydrogen markets. Europe leads the pack, given its comprehensive hydrogen strategy[13].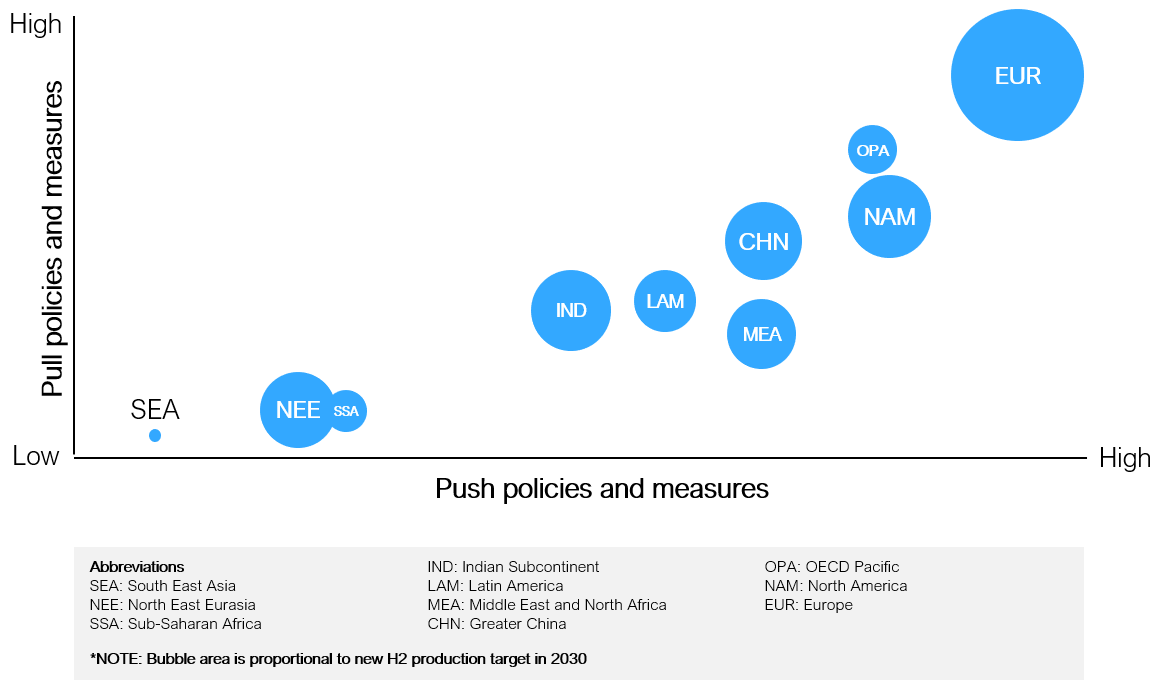 To support the market, governments need to look beyond capital grants for electrolysers and consider scaling their ambitions to match industry appetite and address demand risk.  
Setting concrete deployment targets for existing uses (refineries, fertilisers etc.), as well as in hard to abate manufacturing and transport applications, will be essential to build up demand. Through dedicated funds and/or programs, governments can support industry transition. This could include funding retrofits, supporting hydrogen-ready equipment and 'enabling' infrastructure (such as onsite refuelling and storage). Going forward, other measures, such as underwriting demand for green hydrogen products via public procurement (e.g. green steel or cement), auctions, and mandates (e.g. blending) all need to be in government policy 'toolkits'.
Recent announcements in Europe, whereby amongst a raft of new measures, the 'RePowerEurope Plan'[14] includes support for carbon contracts for differences (CCfD) and the US' tax credit for "qualified clean hydrogen"[15], which would pay producers up to US$3 per kilogram to make green hydrogen more competitive. These are prime examples of government recognition that market based instruments and subsidies are going to be essential to accelerate the hydrogen market. The German government's scheme to tender 10 year purchase agreements for hydrogen-based products is also intended to provide certainty to investors on project bankability.
The opportunity to pivot to green hydrogen is strong but there is considerable work to be done
As discussed, hydrogen's role in enabling a net zero transition is significant, however there are considerable market hurdles. Whilst the cost of technology and production (particularly green hydrogen) is coming down, the narrow range of application opportunities in the short to medium term, the lack of market, and bankability issues, present as key stumbling blocks. As such, strong government mandates and policies are required to drive the sector's development, particularly in this nascent phase of the market.
Actions required
At the same time, there is work be done across the market as listed below. What stands out is the need for partnerships and collaboration across the hydrogen value chain to mitigate risks, identify common values and accelerate market development.  
Governments need to set a stronger agenda via concrete deployment targets and innovative funding models to build investor confidence
Developers need to engage with potential customers, understand their willingness to pay for green hydrogen and undertake pre-certification assessments
Financiers to develop robust financing structures
Customers to identify the 'fit for purpose' proposition for hydrogen, explore supply options and develop market engagement pathways
Group hydrogen purchasing (GHPs) options will need to be explored (customers collaborating with developers/financiers)
Leadership by collaboration and shared learnings
Please contact the author or any of our experts if you have questions or would like to discuss the market outlook.