With the conclusion of the final reverse auction on 23 August 2016, the ACT has now contracted 40MW large-scale solar PV and 600MW wind1 − sufficient to meet its 2020 100% renewable energy target. While a significant achievement in its own right, its importance extends beyond the ACT, as the commitment shown by the ACT Government gave Australia's renewable energy sector much needed support at a critical time in its development. 
Energetics is proud to have been engaged by the ACT Government across all five large-scale renewable energy auction rounds to provide technical and commercial due diligence services.
A significant milestone in Australia's shift to clean energy
When confidence in the Australian large scale renewable energy market hit a low in 2014 following the review of the Renewable Energy Target (RET), we saw by the end of that year:
Construction of 11 wind farms with a combined capacity of 1.3GW put on hold
Investment in large scale renewable energy projects drop by 88% compared to 2013.
At the time, the ACT Government 's anticipated 600 MW renewable energy capacity auctions provided new impetus to a deflated industry. In the years following it also provided valuable price signals to the market through its competitive auction process. During 2015 the ACT Government accounted for 53% of Australia's total investment in new large renewable energy project capacity (measured in MW).  
Investment in renewables picked up in 2016, following the Federal Government's mid-2015 confirmation of the new target for large-scale generation of 33,000 GWh in 2020. However, based on Energetics' analysis of commitments to proceed with large scale renewable energy investments in the calendar year to date (2016YTD), the three projects offered feed-in tariffs (FiT) by the ACT Government in 2016, together constituted 26% of the national investment total. See the graph below.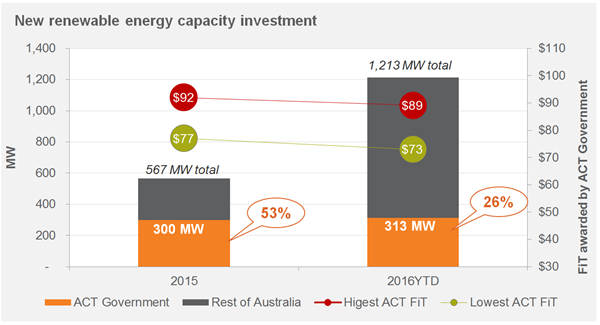 Figure 1: New renewable energy capacity investment
We saw prices achieved by successful wind project proponents decreasing with each auction round. The FiT weighted average awarded for wind projects under the scheme was $83.74, fixed for 20 years for a bundled offtake of power and large generation certificates (LGCs).   
The biggest winner from these auctions was Neoen / Megawatt Capitals' Hornsdale project (Stages 1, 2 and 3) located in South Australia, which was successful in three reverse auction rounds. It holds a 52% share of all wind capacity contracted by ACT Government at a weighted average price of $80.44 / MWh (bundled offtake). Hornsdale's bid price declined in each round from $92 in Stage 1, to setting records for the lowest price paid for a bundled offtake during subsequent stages at $77 for Stage 2 and $73 for Stage 3.
With the ACT Government's reverse auctions having concluded, Australia's large scale renewable energy industry draws new confidence with renewable energy target commitments from both the Victoria and Queensland State governments. Noting that the first round auction under the Victoria Renewable Energy Target Scheme is expected to run in 2017.
Energetics can assist your business with its renewable energy strategy
Energetics has more than 30 years' experience advising large energy users across all sectors of the Australian economy. In addition to supporting the ACT Government's reverse auctions, we have also developed on-site renewable energy strategies for a large Federal Government Agency and numerous corporate clients, and are supporting the Sydney Metro North West renewable energy procurement process and the Melbourne Renewable Energy Purchasing Group. We follow developments in the National Electricity Market and Western Australian Electricity Market on a daily basis, and have an in depth understanding of the federal and state regulatory environments that are shaping the energy mix.
For further insights and to help your business assess and manage its risks, please contact the author or any one of our experts.
References
[1] Solar rounds were awarded in 2012 and 2013, whilst wind was awarded in 2015 and 2016
Information for this article was primarily obtained through Clean Energy Council, ACT Government and Energetics Analysis